Best Eye Cream for Puffy Eyes
|
Puffy eyes is a common problem most men and women face. The swelling underneath your eyes can be caused by multiple factors, luckily there are remedies and eye creams that can treat puffiness.
What causes puffy eyes?
Whilst most people think puffy eyes are cause by lack of sleep there can be other underlying factors. These include fatigue, dehydration, excessive sodium intake, fluid retention, natural aging process, stress and genetics. Most people find their under eyes are puffier in the morning because we do not blink while we are asleep. This causes fluid build up and lack of circulation. Eventually when we wake up and start blinking the swelling should naturally decrease. If you find you still have puffy eyes there are ways to treat them, the most common is to use a skin care product like eye cream.
What is the best eye creams for puffy eyes?
There are many eye creams made to treat puffiness around the undereye area. These are our favourites.
CLINIQUE Pep-Start Eye Cream
CLINIQUE Pep-Start Eye Cream is specially created to help wake up tired looking eyes. It is made for both dark circles and puffy eyes. It has a cooling applicator tip that helps to de-puff the eye area. Its hydrating formula is great to use for any skin type.
Ole Henriksen Ultimate Lift Eye Gel™
Ole Henriksen Ultimate Lift Eye Gel™ is made to use at night before you go to sleep. The formula includes a wide range of peptides and natural botanical, including cucumber and algae extracts which help the sooth the swelling under the eye.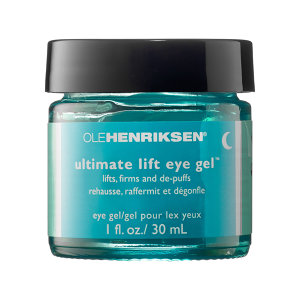 philosophy Ultimate Miracle Worker Eye Cream
philosophy Ultimate Miracle Worker Eye Cream is a multitasking product that helps keep your skin looking youthful. It's ingredients include caffeine and vitamin C to help reduce puffiness as well as wrinkles.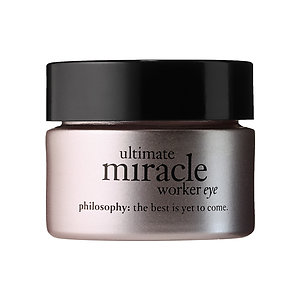 Benefit Cosmetics Puff Off!
This eye gel by Benefit has as custom "ironing" tip designed to help smooth out puffy eyes. The gel formula helps to instantly refresh your skin.
How to get rid of puffy eyes naturally?
It you want to try a natural remedy as eye way to decrease the swelling cause by puffiness is to get use tea bags and leave then in the fridge. Once cold, place these over your eyes. The coldness of the tea bags will help sooth your skin, which the caffeine will help with circulation.