Top 10 Best Cleansers for Acne 2014 Review
|
Acne is a common problem most people face at some point in their lives. There can be many causes of acne and difference types. One of the best ways to get rid of acne or pimples is to change the type of skin care product you use. By using a product that is specially formulated to clear your skin, it will make a huge difference. One skin care product in particular is cleansers. Since they help clear dirt, grime and make up off your face it is especially important to pick the right one suitable for your skin type. The best cleansers to use for clearing up acne are ones that contain acne fighting ingredients such as salicylic acid, benzoyl peroxide and sulphur. These ingredients help kill bacteria and remove dead skin cells.
Top 10 Best Cleansers for Acne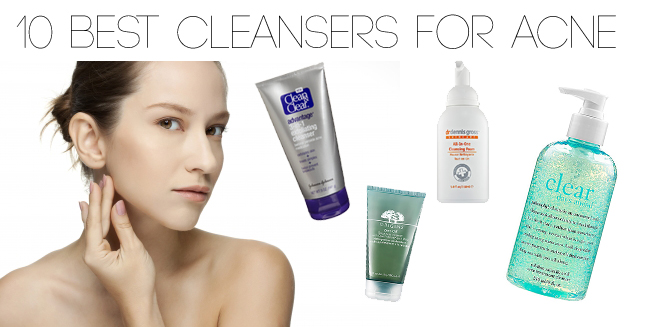 MURAD – Time Release Acne Cleanser
This cleanser is great for those looking for a gentle formula. It contains sustained-release salicylic acid to help give you a clear complexion and give you a younger appearance. Because the salicylic acid is sustained-released, it is long-acting and stay active even after you wash it off.
CLINIQUE – Acne Solutions Cleansing Foam
This is a mild foaming cleanser. it works by gently removing excess oil and dirt which leaves your skin clean, soft and smooth. It is great for all skin types.
CLEAROGEN – Foaming Cleanser
Clearogen Foaming Cleanser is formulated with anti-bacterial agents that help fight pimples and blemishes. It helps remove any dirt, make up, pollutants, bacteria or oil that can cause acne.
If your lookinging for an oil-free and alcohol free skin care product, then this cleanser is perfect for you. It contains 2% Salicylic Acid (BHA) which is great for treating and preventing blackheads, whiteheads, pimples and blemishes.
ORIGINS – Zero Oil™ Deep Pore Cleanser
Say hello to a shine-free complexion with Origins Zero Oil Deep Pore Cleanser. It's ingredients include saw palmetto, cooling mint, and salicylic acid which helps to clear your skin. It helps to reduce pores and prevents breakouts and blackheads.
DR. BRANDT SKINCARE – blemishes no more® daily exfoliating cleanser
This cleanser contains dissolvable micro exfoliating beads which helps to gently clean your face. It absorbs and regulates oil and sebum production which can clog up pores leading to acne. It helps to kill bacteria and inhibits its growth as well as clearing blemishes.
MARIO BADESCU – Glycolic Foaming Cleanser
This cleanser is designed to be used 2 to 3 times a week .It works by exfoliating the skin using glycolic acid. This is a great cleanser for anyone who suffers from clogged pores and blackheads.
PHILOSOPHY – Clear Days Ahead™ Oil-Free Salicylic Acid Acne Treatment Cleanser
Clear Days Ahead is a gentle cleanser containing salicylic acid which effectively reduces breakouts and prevents pimples. It helps to deeply cleanse your skin and kill the nasty bacteria that can cause acne. Using this daily will help promote fresh looking clean and clear skin.
CLEAN & CLEAR ADVANTAGE – 3 in 1 Exfoliating Cleanser
This cleanser is a great for someone looking a an effective but affordable acne product. It helps to exfoliate the skin using gentle microbeads which declogs the pores. To treat acne it contains benzoyl peroxide  which is very effective in reduces pimples and preventing breakouts.
DR. DENNIS GROSS SKINCARE – All-In-One Cleansing Foam
This cleanser was chosen  for the 2008 Allure Magazine Best of Beauty Editor's Choice Award-Best Cleanser (Normal Skin). It deep cleanses your face which helps to reduced blemishes and impurities. It is great for removing blackheads and isn't over-drying. It is even works well for removing make up.