Vita Liberata Self Tan Dry Oil SPF 50 Review
|
More and more people have become aware of the importance of skincare these days. They always look for top quality products that offer excellent results and it has become increasingly difficult for manufacturers selling substandard products. You can come across a wide range of online reviews that analyze the pros and cons of skincare products and it is always advisable to depend on reviews that follow an unbiased method of approach. This review evaluates the advantages and disadvantages of a skin care product known as Vita Liberata- Self Tan Dry Oil SPF 50 in an unbiased manner.
What is Vita Liberata Self Tan Dry Oil?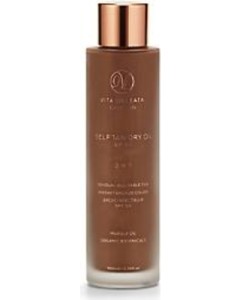 This product can be described as a tan dry oil that follows a three-in-one formula and this non-greasy oil protects your skin from harmful sunrays with utmost efficiency. It also repairs and nourishes your skin cells in the best manner to prevent aging related problems. You can apply this cream to your skin in long, circular movements and it is always advisable to wipe the areas using a damp cloth after the application. You need to wait at least one hour before rinsing and for best results; you have to wait for 8 hours.
The ingredients
This Vita Liberata tan oil contains a wide range of top quality ingredients and they include Octocrylene, Dihydroxyacetone, Marula, Water, Octinoxate, Glycerin, Lemongrass oil, Cucumber extract, Sclerocarya Birrea seed oil, Bitter Orange flower oil, Coconut oil, Gardenia Taitensis flower extract and many more. All these ingredients make a combined effort to make your skin radiant, glowing and beautiful.
Vita Liberata Self Tan Dry Oil SPF 50 – Pros
1) The three-in-one formula with advanced broad spectrum SPF 50 offers optimal protection from harmful sunrays.
2) You can enjoy a natural glowing tan that is extremely long lasting.
3) This product does not contain any harmful chemicals.
4) It is packed with highly organic botanicals that offer amazing results.
5) The unique moisture lock system draws water to the skin surface in the best manner.
6) It prevents aging related problems with utmost efficiency.
Cons
1) You cannot use this oil with moisturizing shower creams.
Conclusion
If you are using this oil as a sun protection, you need to apply 15 minutes before sun exposure and it can be reapplied after every two hours. All impartial reviews clearly suggest that the highly beneficial ingredients of this Self Tan Dry Oil offer excellent results and the opinions of the existing users clearly reassert this conclusion without a shadow of doubt as well.
Vita Liberata Self Tan Dry Oil SPF 50