Best Lancome Eye cream for Puffy Eyes
|
The skin tissue around the eyes is very thin and very sensitive. Sometimes, for several possible reasons, it may get swollen. When this occurs, the situation is referred to as "puffy eyes". It may be accompanied by dark circles on the skin.
The condition may be a normal, temporary incidence while at other times it calls for serious attention. Below are reasons why the skin around the eyes may swell;
Fluid retention – It is usually caused by presence of too much sodium in the diet. It is the reason why your eyes may be swollen when you wake up.
Mental stress – It causes the skin and eyes to weaken and become prone to problems such as swelling.
Crying – The tiny glands which produce tears in the eyelids get inflamed from overactivity when one cries, hence swollen eyes.
Allergies and Hormone changes in the body.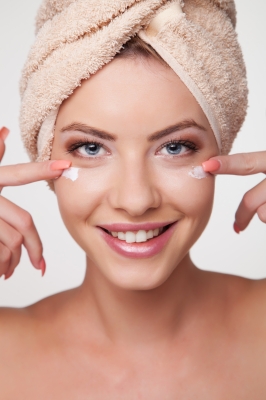 Lack of sleep or excessive alcohol consumption.
Normal aging process or genetical features.
Skin problems such as dermatitis.
Hypothyroidism
It may be a sign of Nephritic Syndrome.
These are the major causes of puffy eyes, though there are more.
With the normal occurrences of puffy eyes, the condition may get away naturally or by means of simple home treatments such as use of cucumber slices, avoiding foods that you are allergic to and limiting the consumption of sodium.
With more complex cases, it is advisable to seek medical advice or use recommended products. Below are effective Lancome eye creams to help you cope with your conditions;
Rénergie Yeux Multi-Lift
It's an ultra-silky cream specifically formulated for delicate eye areas to keep off visible signs of aging; leaving you with a younger look. It is suitable for all skin types. With an Anti-Wrinkle Action and a Firming Action, it is an effective remedy for dark circles and under-eye bags. It efficiently firms the eye contour and makes it look more luminous. It also makes the skin the fine lines around the eyes to appear smoother. It is suitable for Eye Bags, Crow's Feet, Dark Circles, Wrinkles, Loss of Firmness and Fine Lines. It rejuvenates, smoothens and illuminates the skin.
Directions for use:
You should thoroughly clean your face and apply a small amount of the first cream to the area around the eyes. This reduces the appearance of wrinkles. You should then apply the concealer to brighten the contours and reduce the appearance of dark circles. The result is an illuminated, brilliant look.
Advanced Génifique Eye Light Pearl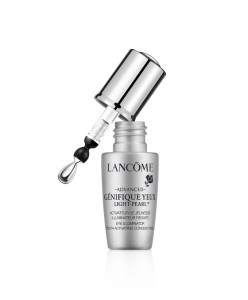 It gives the skin around the eyes a firmer, more rested effect. It has a fresh texture which carries a fresh texture which targets below and above the eye. With a flexible applicator, it effectively reaches the entire area around the eye with an exclusive formulation to keep off the appearance of eye bags and fine lines, leaving you with a re-energized, less puffy and more luminous glance.
For application directions, follow the instructions in the leaflet usually found in the package.
These products of Lancome perform exemplarily well and their results are immediate and long lasting. If you want to chase away the puffy eyes you always dream of smoothening, then these are a lifetime therapy for a luminous, straightened and a younger look, all at best value for your dime.
Photo by patrisyu.