Top 5 Best Cheap Face Serums Under $25
Facial serums are an important part of any good skin care routine. They contain a concentrative formula which penetrates deep down into the skin and can treat various skin conditions. Finding a good facial serum can be hard as most high quality products are expensive. This is bad especially if you are on a particular budget. Luckily there are some really good affordable serums on the market. Keep reading find the top 5 best cheap face serums under $25.
Alina Skin Care Hyaluronic Acid Ultra Moisturizing Serum $24.95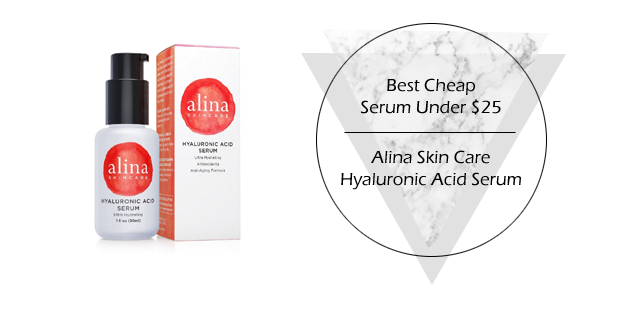 Alina Skin Care Hyaluronic Acid Serum is an award winning and dermatologist recommended cheap and affordable serum that suit most people's budgets. It uses macadamia seed oil, apple extracts and linoleic acids to help skin soft, supple and free from fine lines and wrinkles. It also contains a proprietary antioxidant blend of  Green & White Tea along with Vitamin C and E which helps to keep your skin protected from free radicals and oxidation.
ArtNaturals Enhanced Vitamin C Serum with Hyaluronic Acid $10.95
Vitamin C is an important ingredient in skin care. I has key role in collagen synthesis and production. It is great for anti-aging, brightening and renewing the skin. Studies have shown the vitamin C can help treat UV damage, as well as preventing future damage. It is hard to find a great quality serum that is cheap which contain a concentrative amount of vitamin C, however ArtNaturals provides the perfect formula at a great price. What is also great about ArtNaturals Enhanced Vitamin C Serum is, it contains organic ingredients and also added Hyaluronic Acid which gives your skin extra moisture.
Pure Body Naturals Skin Whitening Serum $24.95
Need to find the best cheap and affordable whitening serum that helps lighten dark spots and brightens your complexion? Look no further because Pure Body Naturals Skin Whitening Serum may be the perfect product for you. Its main ingredients are Licorice PT40, Kojic acid and vitamin C which actively works together to effectively reduce age spots and lighten skin. One of the best ways to lighten your skin is to slow down and reverse skin pigmentation by stopping the production of melanin. This is where Pure Body Naturals comes in, using Kojic acid and horseradish and fennel it helps to stops melanin production with regular use. Kojic acid is also great for reducing wrinkle and fine lines as well as exfoliates the skin. This may be the best whitening serum under $25.
MIZON Snail Repair Intensive Ampoule $12.65
Snail mucus is a popular ingredient in Asian skin care. While it may sound gross it is a very effect ingredient for nourishing and regenerating the skin. Mizon Snail  Repair Intensive Ampoule contain a high concentrative amount of 80% of snail mucus which is great for skin regeneration and helps to correct many types of complex skin problems. It is great for anti-aging and reducing acne scars. It can also brighten and firm your skin giving you are more youthful, glowing appearance. Mizon Repair Intensive Ampoule is fragrance free and contains no artificial colours and paraben which makes tis serum ideal for sensitive skin.
Olay Regenerist Micro-Sculpting Facial Serum $15.75
Olays Regenerist is a microsulpting serum that contains a super concentrated formula of amino-peptide and B3 complex. These ingredients are great for anti-aging  as it hydrates, firms and regenerates your skin. It also brightens your skin and is fragrance free and absorbs quickly into the skin. This is a great for someone on a budget looking for a good anti-aging serum that is affordable and cheap.
Prices based on Amazon as of 13th March 2016
Alina Skin Care Hyaluronic Acid Ultra Moisturizing Serum

ArtNaturals Enhanced Vitamin C Serum with Hyaluronic Acid

Pure Body Naturals Skin Whitening Serum

MIZON Snail Repair Intensive Ampoule

Olay Regenerist Micro-Sculpting Facial Serum